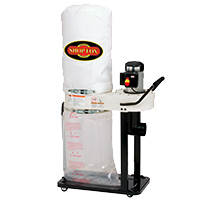 Designed for portability, the model W1727 1 HP Dust Collector can be moved from one machine to another when needed, instead of having to build an entire fixed dust collection system and running ducts to each machine. Some of the machines that this unit works well with are the oscillating drill presses, 13" planers, cabinet-style saws, bench-top and combination sanders, miter saws, floor sweeps, and stand-mounted dust collection nozzles.
Motor: 1 HP, 110V/220V, Single-phase
Amps: 9 @ 110V, 4.5 @ 220V
Air suction capacity: 800 CFM
Static pressure: 5.67"
Number of 4" intake holes: 1
Impeller: 9" balanced steel, radial fin
Bag capacity: 2.1 cubic feet
Portable base size: 15-3/4" x 39-3/4"
Bag size (dia. x depth): 14-3/4" x 24-3/8" (2)
Powder coated paint
Height with bags inflated: 54-1/2"
Approximate shipping weight: 59 lbs.